¡Nos encanta dar clases! En nuestra opinión, una buena clase de idiomas debe ir mucho más allá de trasmitir gramática, seguir un manual y rellenar fichas. Evitamos el método clásico de comunicación frontal y ofrecemos dinámicas interactivas y temas de actualidad. La gramática la damos como una herramienta necesaria para la comunicación, procurando despertar el interés del alumno por la nueva materia a aprender, en vez de dársela sin más.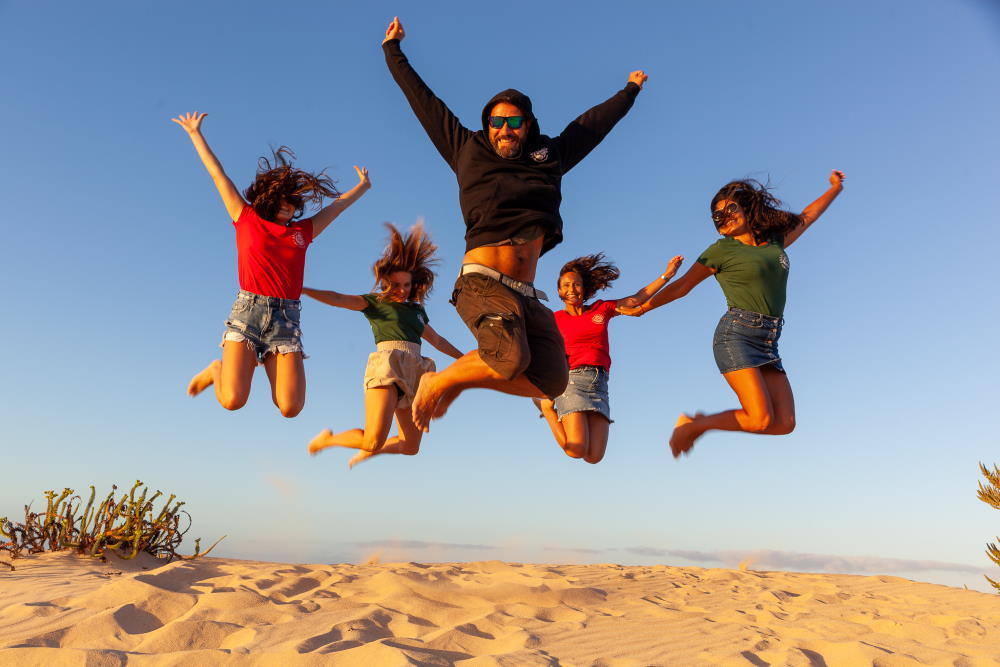 Nuestro equipo al dar clases se siente como si estuviera construyendo puentes entre personas de diferentes culturas y países. También abrimos nuevas puertas para los alumnos, para sus trayectorias profesionales. Con los extranjeros cumplimos una labor social, ya que les ayudamos a integrarse de una manera más apropiada al hablar español. Reconfortante para nosotros resulta por otro lado que algunos de nuestros alumnos superen gracias a nuestro apoyo exámenes. Y por supuesto, nos inspiran con ternura los niños, al ver cómo se apasionan por un idioma nuevo.
Te daremos la bienvenida con un vasito de agua, en un ambiente acogedor y estimulante por los cuadros artísticos que exponemos. En nuestro mobiliario y materiales notarás que procuramos apostar por la sostenibilidad y que la conservación de los océanos es una de nuestras prioridades, ya que representamos también la sede de Limpiaventura, una asociación medioambiental.
Espacio y contenidos de clase
Todas nuestras aulas están equipadas con pantalla, ordenador, conexión a internet, pizarra y equipo audiovisual de calidad. Algunos de nuestros muebles están hechos de materiales reutilizados o son de segunda mano y evitamos las botellas de plástico.
Nuestros profesores están preparados y hablan varios idiomas. En clase se enfocan en la conversación oral. Nuestros materiales son auténticos, ya que no seguimos un manual, sino que trabajamos con materiales elaborados semanalmente y a partir de fuentes de internet, manuales, materiales auténticos o de propia invención.
Lo que nos diferencia de otras academias es que nuestra unidad lectiva dura 60 minutos en vez de 45 minutos. Nos tomamos tiempo para atenderte de la manera más personalizada y humana posible. Para ello tenemos un grupo de whatsapp para cada grupo, por donde enviamos fotos y materiales en caso de que te pierdas una clase. En estos grupitos pueden surgir también interesantes grupos de estudio o iniciativas para juntarse y compartir tiempo libre.
Estamos en la zona céntrica de Corralejo. En una calle tranquila del pueblo Corralejo (que se encuentra en la zona norte de Fuerteventura) a pocos minutos del muelle y de varias cafeterías. Es un lugar ideal para dar tus clases y disfrutar antes o después de tu clase con un desayuno al sol o unas tapas y un vinito en la calle peatonal. Nuestra isla representa un paraíso de aguas cristalinas y colores intensos.
Alina nació en Viena, su padre venía de Argentina y su madre era de pasaporte suiza pero residente en Austria. De pequeña viajó por Europa y Latinoamérica con sus padres hasta que se asentaron en Fuerteventura en los tardíos años setenta. Así que Alina se crio entre dos mundos muy diferentes: Fuerteventura, una isla que en aquella época era poco habitada y representaba un paraíso rústico y desierto y ciudades como Viena, Zürich y Basel. En Viena se licenció en Filología Hispana e Italiana, así como en Pedagogía y un Máster en "Alemán para Extranjeros". Absolvió la universidad como profesora de español, italiano y alemán. Los conocimientos prácticos los adquirió en diversas Universidades Populares de Austria y Alemania, en escuelas de idiomas en Suiza y en el Goethe Institut de Madrid.
Ya desde niña, Alina hablaba varios idiomas y era consciente del problema que suponía no saber lenguas extranjeras en una isla que vivía del turismo. Le dolía ver que amigas y compañeros de clase dejaran los estudios a temprana edad para ir a trabajar en los tomateros o limpiando hoteles, sin más salida que esa. También fue consciente de la injusticia que había en los puestos de trabajo. Los extranjeros tenían más posibilidades de acceder a ellos que los canarios, por el mero hecho de saber idiomas. Por otro lado, también fue testigo de diversas dificultades de adaptación por parte de extranjeros en la isla, por no hablar español. A los 17 años abandonó la isla, haciéndose la promesa a sí misma de que si algún día volvía, haría algo para solucionar este problema de incomprensión entre dos culturas.
La Academia Kunz es más que una simple escuela de idiomas, es un centro de formación que se pone a disposición como lugar para la creatividad, comunicación y elaboración de proyectos. Junto a su trabajo como directora y profesora, Alina ha creado un proyecto con el que visita las escuelas públicas y los campamentos de verano desde el 2017 para concienciar a los niños y jóvenes sobre el respeto por la naturaleza. El proyecto está directamente unido a su asociación medioambiental Limpiaventura y cuenta con un equipo de 5 monitores y de un contenido didáctico y experiencial que lleva a los niños desde pintar hasta limpiar la playa.
En la Academia se han dado cursos de pintura de mano de la pintora y artista Elena Lanz. Hemos ofrecido seminarios y charlas gratuitas con temáticas tan variadas como los delfines en el mar, la importancia de los tiburones en el mar, la cuestión de si hay vida en Marte o la mutilación genital femenina. Las charlas son impartidas por biólogos marinos, ingenieros, componentes de asociaciones activas en las islas. También llevamos desde el 2015 poniendo a disposición nuestras salas para clases de yoga, pilates, baile y tratamientos exclusivos de belleza y masajes. Con la empresa Beautyventura por ejemplo, puedes disfrutar de una cápsula de belleza en una sala acogedora y cálida.
Aparte de estas actividades, la Academia ha colaborado con iniciativas humanitarias, como por ejemplo la recogida masiva de ropa y zapatos durante la llegada de pateras a Canarias en el 2019 y 2010 o como la recogida y distribución de alimentos durante el confinamiento debido al Covid19. Todo esto ha sido posible gracias a la implicación de voluntarios y la colaboración con Cruz Roja, Misión Cristiana Moderna y otras asociaciones humanitarias. También nos hemos implicado con organizaciones dedicadas a salvar perros en la isla, acogiendo por temporadas perritos y buscándoles dueños.
La pequeña escuela se ha vuelto un segundo hogar para Alina, desde donde se esfuerza por trasmitir valores para un estilo de vida más humano, saludable y sostenible. Su vida gira entorno a su hijo y fuera de la academia le encanta salir a pasear con los perros y dedicarse a la asociación medioambiental que creo en 2015, que limpia playas y organiza eventos. Además, practica deportes de contacto, le gusta bailar e involucrarse en proyectos de protección y empoderamiento de la mujer. Alina está convencida de que el futuro saludable para la humanidad es ecológico y protege a la mujer con el apoyo de hombres y mujeres por igual.
Elena nació en Rusia y vivió en Berlín, ciudad en la que se licenció en Lingüística y Germanística, especializándose en el "Alemán como Lengua Extranjera" y el Ruso. Ha trabajado durante años como profesora en Alemania, dando cursos de alfabetización e integración, cursos de alemán para todos los niveles y cursos de alemán específicos para el trabajo preparando a sus alumnos de manera intensiva para los exámenes. Elena adora su trabajo y le encanta seguir formándose de manera continuada, suele preparar métodos amenos y elaborados para sus clases y está continuamente empleando nuevas metodologías. Le suele resultar fácil entablar una relación de respeto y confianza con sus alumnos para crear un entorno de aprendizaje alegre. Elena está convencida de que la alegría y diversión durante el aprendizaje son la clave para abordar de forma exitosa aspectos más difíciles como el de la gramática alemana. Ella misma está interesada en el aprendizaje de varios idiomas y le gusta compartir su entusiasmo por la naturaleza, los deportes de agua y las diferentes culturas con los alumnos.
Elisa nació en Roma pero toda su adolescencia estuvo marcada por transcurrir largas temporadas en la ciudad de Salamanca donde estudió y se mudó al finalizar su bachillerato. Tras matricularse en la Universidad salmantina, obtuvo la Certificación DELE nivel C2, del Instituto Cervantes. Elisa terminó su carrera en Roma, en la Universidad de RomaTre, graduándose en Literatura Italiana.
Tutor de Humanidades desde los 18 años, se especializa en didáctica de "Italiano como lengua extranjera L2/LS", en la Universidad para Extranjeros de Siena y también en la Ca' Foscari de Venecia. En 2018 empieza una satisfactoria colaboración laboral con la Escuela de Italiano para Extranjeros Dante Alighieri de Roma, calificándose como examinadora PLIDA, nivel A2. La colaboración con la escuela, que había seguido a lo largo del lockdown convirtiéndose en cooperación y clases en línea, termina en el septiembre 2020 cuando Elisa decide seguir su sueño y mudarse en el pueblito isleño de Corralejo, en Fuerteventura, una isla que con su energía volcánica y explosiva supo reflejar su ser más profundo, conquistándola. Aquí encuentra su lugar de elección, su sitio en el mundo, tras viajar a lo largo de 10 años en su busca.
Elisa tiene una profunda pasión por la enseñanza y un amor intimo hacia el idioma español que intenta transmitir durante sus clases dinámicas y entretenidas, creyendo que el aprendizaje pasa más por la practica constante y guiada del alumno que en el transmitir pasivo de reglas por parte del profesor. Por eso, su metodología didáctica es activa, dinámica, divertida y variada.
Además, habiendo sido alumna antes que docente, le encanta desvelar a sus alumnos los trucos para aprender de manera más rápida posible todas las normas/ reglas que les resulten más difíciles y obscuras.
Su afición son las artes marciales, el Tai chi y el KungFu, practicadas a lo largo de 10 años en Roma, por cierto uno de sus deseos es llevar la practica de estas disciplinas también aquí¡, en la isla de Fuerteventura.
Para formar parte de nuestro equipo, no solamente cuentan los requisitos del currículum. También tomamos en consideración las cualidades humanas y la personalidad del profesor. Aparte de las profesoras fijas de nuestro equipo, también contamos con otros profes que están con nosotras por temporadas.
Lo mismo pasa con nuestra oferta, que va cambiando según la demanda. Así que es posible que aparte de nuestra oferta fija de español, alemán, inglés y francés y apoyo escolar, ofrezcamos un curso de euskera, informática, de italiano, de yoga, de pilates, de pintura, de baile u otro. Por eso, lo mejor es que te informes directamente por la oferta actual en cuanto a cursos y profes por Whatsapp, a través del número +34610013424.
Aparte del programa de cursos, también disponemos de una sala que puede ser utilizada para charlas y otra más pequeña muy acogedora en la que puedes reservar tratamientos de belleza y salud.
Somos flexibles dentro de lo posible y nos hemos ido adaptando a las circunstancias. Nuestro lema es que: al mal tiempo, buena cara. Estamos muy orgullosas de haber podido sobrevivir como empresa a la crisis mundial del 2020.
Sigue nuestras redes sociales y mándanos un Whatsapp al +34610013424 si quieres información actualizada.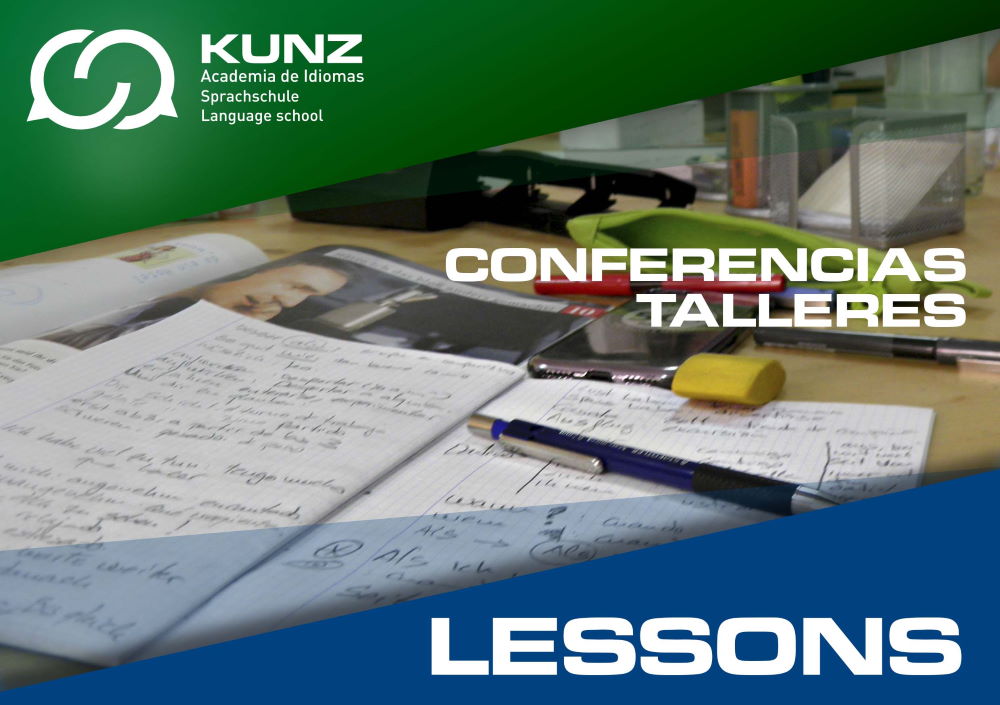 Contáctanos, te informaremos en español, en inglés o en otros idiomas
Lo que opinan nuestros alumnos sobre nosotros
Eine sehr gute Erfahrung Ich habe ohne Vorkenntnisse die Sprachschule von Alina Kunz für 2 Wochen besucht. Ich wurde von unserer Lehrerin Elisa und von Alina Kunz gut abgeholt. Mit dem Ergebnis, dass ich nächstes Jahr weiter mache. Das spricht für sich und benötigt keine weiteren Erklärungen. Gracias
Marlies G
November 18, 2022.
Tolle Sprachschule in Corralejo Ich kann die Sprachschule nur empfehlen. Meine zwei Wochen Bildungsurlaub Spanisch waren abwechslungsreich, lehrreich, interessant und kurzweilig. Elisa und Alina sind tolle Lehrerinnen.
bufflog
November 16, 2022.
Top individuelle Lernerfahrung auf hohem Niveau Ich habe hier zwei Einzelstunden in Spanisch genommen als Vorbereitung auf meine eigene Lehrtätigkeit. Die zwei sehr netten Sprachlehrerinnen sind genau auf meine Wünsche eingegangen: Konversation über und Reflexion der eigenen Lehrerinnen Rolle, didaktische Hinweise, Wiederholung anspruchsvoller Grammatikthemen (mit Blick auf Kommunikation im Unterricht). So hatte ich die Möglichkeit meine bereits guten Sprachkenntnisse im Bereich ELE zu erweitern. Vielen Dank euch!
Súper escuela Scuola professionale e allo stesso tempo divertente.Insegnanti di alto livello e con grande esperienza.Continuerò i miei studi con loro.
Gran escuela, profe encantadora Alina es una profe encantadora! Su paciencia, su educación, su amabilidad y su dedicación al trabajo son las cosas que me enamoraron de esta Academia de idiomas! La Academia es un ambiente acogedor, parece estar entre amigos ya a partir del primer día, todos son muy educados y tienen buen rollo! El seguimiento del aprendizaje es de alta calidad, la profesora nos sigue paso a paso, y cada vez que tengamos dudas nos ayuda volviendo a explicarnos (el alemán es bastante duro!).No existen tareas estresantes, exámenes cada mes o cosas así que puedan perjudicar la seguridad o la confianza propia del alumno, para que siga aprendiendo a su ritmo hasta conseguir su objetivo.En definitiva, la mejor academia de Fuerteventura, extremamente recomendable!
Vanessa R
August 19, 2022.
La frequento da 2 mesi e continuerò per tutta la mia permanenza Molto professionali, argomenti interessanti con possibilità di diversi livelli di apprendimento, consigliatissimo 👍
Roberto F
February 5, 2022.
Just amazing! Best Spanish course I could. We had an amazing week of Spanish lessons with Elisa. What a teacher. We had so much fun with her and learned much more than expected. Highly recommended! I will be back next year!
Philipp
December 22, 2021.
Excelente enseñanza Aprendí Alemán en la academia con una excelente profesora, ahora ya estoy en Alemania y he podido poner en práctica todo lo que un día me enseñaron. Recomiendo totalmente este centro.
Brenda O
September 28, 2021.
Learning Spanish Recomiendo encarecidamente esta escuela, estan muy bien organizados y bien capacitados. Tambien ofrecen diferentes horarios para adaptarse a sus necesidades
Eduardo M
September 27, 2021.
Totalmente recomendable Soy española y recibo clases on-line desde Alemania. Elena siempre tiene el material apropiado para que el aprendizaje sea lo más fácil y rápido. Muy útil viviendo aquí, su profesionalidad y sus consejos. Elena es una excelente profesora de Alemán.
Belén
September 27, 2021.