Nuestras clases son amenas, dinámicas y eficientes. Damos clases de inglés, alemán, español para extranjeros, francés, ruso e italiano. Ocasionalmente también ofrecemos clases de otros idiomas o incluso de otras materias con profes temporales que nos visitan. Todos los idiomas se ofrecen para adultos y niños.
Nuestra oferta cambia mensualmente, ya que nos adaptamos a la demanda. Hay cursos particulares y en grupo, en diferentes horarios según los niveles.
Puedes empezar en cualquier momento con tus clases sin necesidad de esperar el comienzo de un trimestre o mes. Aquí puedes conocer gente de otros países o en una situación similar a la tuya, ya que asistir a un curso significa también acceder a un punto de encuentro multicultural.
Lo más importante para nosotros es que nuestros alumnos estén motivados. Por eso nos basamos en un método comunicativo. Es decir, que procuramos imitar una situación auténtica en clase, lo más parecida a la vida cotidiana. En esta situación, el alumno debe procurar comprender y hacerse comprender de manera oral. Para ello, aprende la gramática y el vocabulario necesario en cada momento. Lo aprendido se refuerza con lectura y ejercicios escritos.
Así que, si quieres ampliar tus horizontes o mejorar tus posibilidades laborales, mantener tu mente activa y conocer nuevas personas, puedes contactarnos y apuntarte con nosotros a un curso de idiomas. Si tus hijos tienen problemas con las asignaturas del instituto o de la escuela, también podemos ayudar. Si quieres que tus hijos estén motivados y recuperen la ilusión por aprender cosas nuevas o si les han puesto la etiqueta de "altas capacidades", "dificultad de concentración" o similares, también estamos especializados en ello.
En nuestra academia de idiomas ofrecemos:

Clases en grupo (3-6 personas)

Clases personalizadas (1-2 personas)

Cursos intensivos para empresas

Permiso de formación para alumnos de Austria y Alemania "Bildungsurlaub"

Paquete de clases de español, alojamiento y actividades deportivas.
Nuestras clases de alemán principalmente están pensadas para personas que tienen un trabajo relacionado con el turismo. En Fuerteventura prácticamente todos los puestos de trabajo están directa o indirectamente relacionados con el turismo. Aún así, las profesoras de alemán estamos formadas para impartir alemán a cualquier nivel o requisito. Los horarios de nuestros grupos dependen de la edad y del nivel del alumno. Para profesionales de la hostelería tenemos cursos expresamente orientados hacia un vocabulario útil, conversaciones prácticas y un ritmo rápido.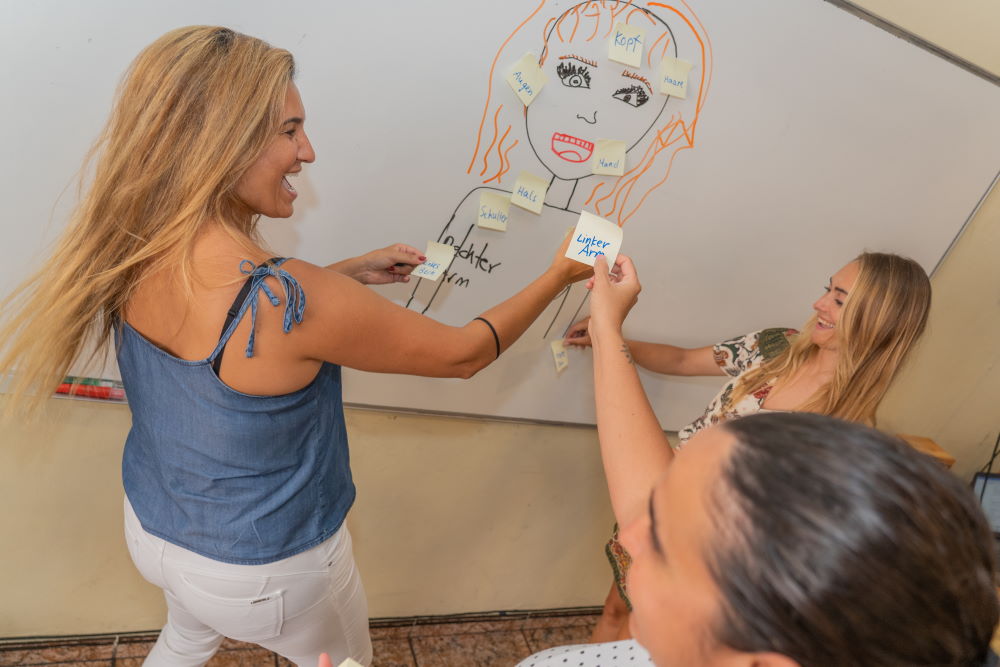 Nuestros adultos que ya han dado clases de alemán anteriormente deberán hacer una prueba de nivel. Se trata de una entrevista oral, no solamente para asegurarnos del nivel del alumno, sino también para definir claramente sus metas y encontrar el grupo más adaptado en cuanto a intereses de los compañeros. No es lo mismo un curso de preparación de examen oficial para ir a trabajar a Alemania que un grupo de alemán para recepcionistas de hotel.
Si estás pensando en ir a trabajar a Alemania, Suiza o Austria, podemos ayudarte con ofertas de trabajo y cursos subvencionados. La plataforma europea del programa "eures" brinda opciones interesantes.
Para jóvenes ofrecemos clases de alemán y clases de apoyo, no solamente para aprobar la materia en el instituto sino también para despertar en los alumnos el cariño por un idioma que al principio puede resultar difícil o aburrido. Un joven motivado puede cambiar el mundo, así que preparamos ejercicios dinámicos, divertidos y amenos para mostrarles la parte interesante del alemán.
Los niños aprenden moviéndose, así que para los más pequeños nos basamos en la creatividad, diversión y motórica para transmitir las bases del alemán. Los materiales siguen metodologías como la de Montessori, canciones, juegos, manualidades y bailes.
En general nuestro método para enseñar alemán da buenos resultados. A lo largo de nuestra experiencia podemos resaltar el buen resultado que ha dado con alumnos con altas capacidades, con síndrome de Asperger, con dificultades para concentrarse, con dislexia y con alumnos desmotivados por el sistema de estudio de centros anteriores.
Español y "Bildungsurlaub"
Corralejo es un pueblo relativamente pequeño, por lo que adaptamos nuestra oferta a la demanda de cada mes. Ofrecemos nuestros cursos a lo largo de todo el año, organizados por niveles. Para los niveles nos orientamos por el marco de referencia común europeo y para ello realizamos pruebas de nivel. Nos parece importante que nuestros alumnos estén en grupos con otros alumnos del mismo nivel y si puede ser, con los mismos intereses y metas de aprendizaje.
Damos clases en un ambiente familiar y nuestros grupos son reducidos. Procuramos cumplir los deseos de nuestros alumnos, como por ejemplo pueden ser clases personalizadas con explicaciones en alemán, grupos homogéneos de tercera edad o clases más amenas y divertidas con excursiones.
La directora Alina y la jefa de estudios Elena son profesoras licenciadas y apasionadas por su trabajo. Buscan mejorar el funcionamiento de la academia con constancia y siguen formándose para seguir mejorando.
Permiso de formación "Bildungsurlaub"
Para algunos países como Alemania y Austria ofrecemos "Bildungsurlaub", también llamado "Bildungkarenz". Se trata de un derecho reconocido para empleados y autónomos a formación continuada y vacaciones extra para dicha formación. Nuestro centro está certificado para que empleados de Alemania y Austria puedan acceder a este permiso especial y dar un curso de idiomas con nosotros.
¿En qué consiste exactamente el "Bildungsurlaub"? Desde 1976 existe en Alemania una Ley de Permisos de Formación dirigida a permitir la formación continua profesional. La normativa legal puede variar de un Estado federal a otro. Baviera y Sajonia, por ejemplo, no tienen legislación a este respecto. En Renania del Norte-Westfalia existen limitaciones al desplazamiento que excluyen las islas Canarias como destino. En los demás Estados federales rige el principio de que todo el mundo tiene derecho a seguir formándose. Un aspecto importante es que la formación cuente con reconocimiento oficial.
Aunque una persona no necesite el español directamente para su trabajo, tiene derecho a seguir adquiriendo capacidades de manera que su cualificación mejore y su valor en el mercado laboral aumente gracias a sus conocimientos de idiomas. Creemos que el mejor lugar para aprender una lengua extranjera es allí donde esa lengua se habla. Por eso, un curso de idiomas en otro país es una buena razón para que el empresario conceda el permiso. Además, los autónomos y los trabajadores en prácticas también pueden solicitar esta clase de permiso. Existen diversas ayudas destinadas a ello.
La duración de la formación varía de un Estado federal a otro. Por lo general, se conceden entre 5 y 10 días laborables, durante los cuales los participantes realizan un aprendizaje intensivo diario. Los costes del permiso se comparten entre el empresario y el trabajador. Este último sigue percibiendo su salario, pero los costes del curso, así como los del alojamiento y el desplazamiento, son de su cuenta. El caso de los autónomos es diferente, ya que pueden cargar los gastos a efectos fiscales y solicitar una ayuda económica al Estado.
En la Academia KUNZ, la formación para profesionales es algo más que un curso de idiomas. El programa incluye la inmersión diaria en la lengua y la cultura de las islas Canarias a través del trato con la población autóctona, la exploración de la isla y las experiencias personales.
El paisaje de la isla, la deliciosa gastronomía, la riqueza de la cultura y la mentalidad abierta de los isleños hacen del aprendizaje una experiencia auténtica y eficaz. El permiso de formación se puede combinar con la práctica del surf y el kitesurf, así como con cursos de voleibol en la playa y actividades de aventura como el buceo, el snorkel o el senderismo.
Al reservar una estancia con uno de nuestros socios accederás a diversas ofertas de alojamiento y restauración a precios muy interesantes.
Opinamos que tener conocimientos del inglés en nuestro mundo actualmente es fundamental, sobre todo para aquellos que se dedican a la hostelería y gastronomía. Pero también para cualquier profesional, ya que el inglés predomina a nivel mundial como idioma de interacción entre diferentes culturas. Nuestros cursos se orientan a un inglés que puedas aplicar de manera práctica en tu día a día y profesión. Damos cursos de inglés para todos los niveles y edades.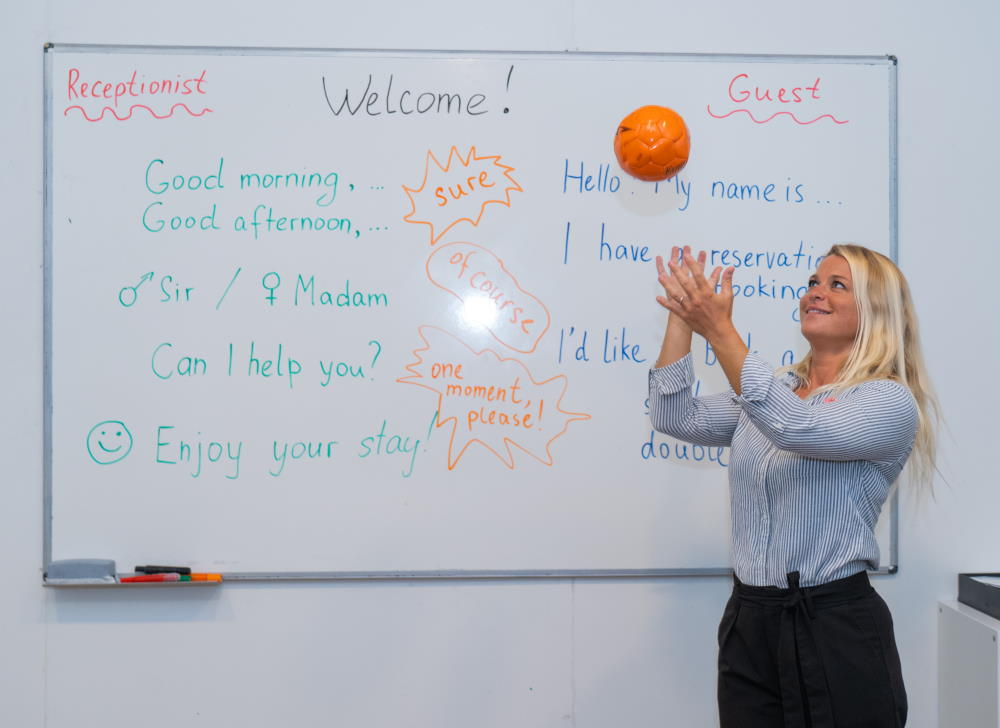 Nuestro método para enseñar inglés es comunicativo, los ejercicios dinámicos y entretenidos, con resultados inmediatos de progreso. Nos enfocamos en motivar al alumno y en darle herramientas para poder estudiar también por su cuenta. Nuestro sistema de educación en España prevé el inglés desde temprana edad como principal lengua extranjera. A pesar de ello, nos llegan muchos alumnos que han terminado el bachiller y a nivel oral no son capaces de comunicarse con fluidez. ¡Nosotros tenemos el curso perfecto para mejorarlo!
No pasa nada si has dado inglés antes y aún no eres capaz de entenderlo y hablarlo, es algo que suele pasar habitualmente cuando se han practicado la escritura y la lectura, pero se han dejado de lado el habla y la audición. Nosotros te daremos un inglés práctico, que puedas aplicar en tu trabajo. Te daremos las claves para una pronunciación correcta a través de audios y vídeos, materiales auténticos y lecturas interesantes. La interacción en clase te hará avanzar de una manera nueva y estimulante. Si los alumnos son jóvenes de instituto que sacan malas notas, aparte de ayudarlos a aprobar los empoderamos para que vuelvan a creer en sí mismos y tratamos de despertar su curiosidad por el idioma. A los niños les enseñamos a través de juegos, canciones y manualidades. Los niños aprenden moviéndose y expresando libremente su creatividad. A través de la diversión, conseguimos que se concentren y les ayudamos a que aprendan por sí mismos y conecten con su pasión natural por el aprendizaje.
Niños y jóvenes:
cursos y clases de apoyo
Para jóvenes ofrecemos clases de idiomas y clases de apoyo. Los idiomas que pueden aprender son el alemán, inglés, francés y español. Aunque según la demanda, también se pueden dar clases de otros idiomas. Las clases de apoyo son para cualquier materia del instituto con la que tengan dificultad. Estamos especializados en lengua y literatura, francés, inglés, alemán.
Las clases de apoyo que damos a jóvenes no solamente son para que aprueben la materia en el instituto, sino también para despertar en los alumnos el cariño por una materia que al principio puede resultar difícil o aburrida. Un joven motivado puede cambiar el mundo, así que preparamos ejercicios dinámicos, divertidos y amenos para mostrarles la parte apasionante y creadora del aprendizaje.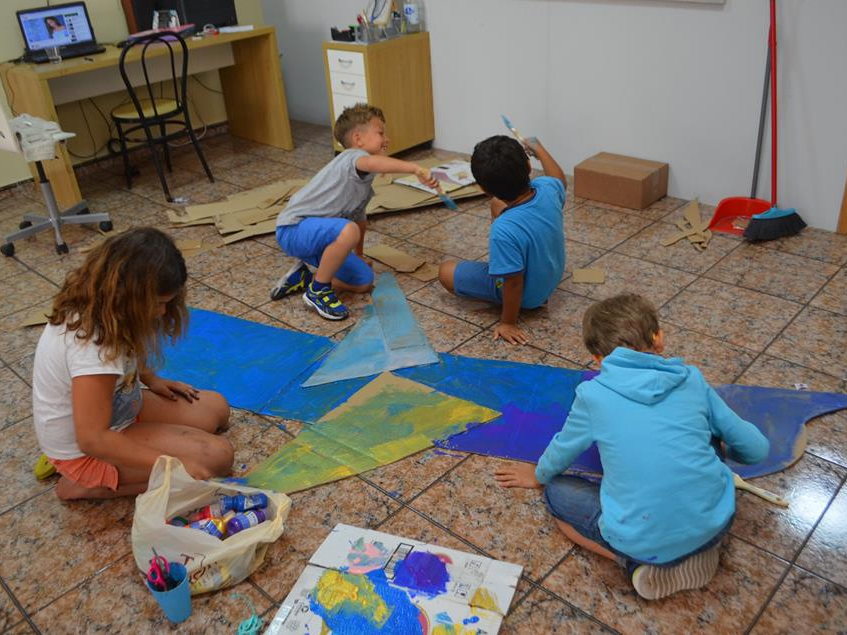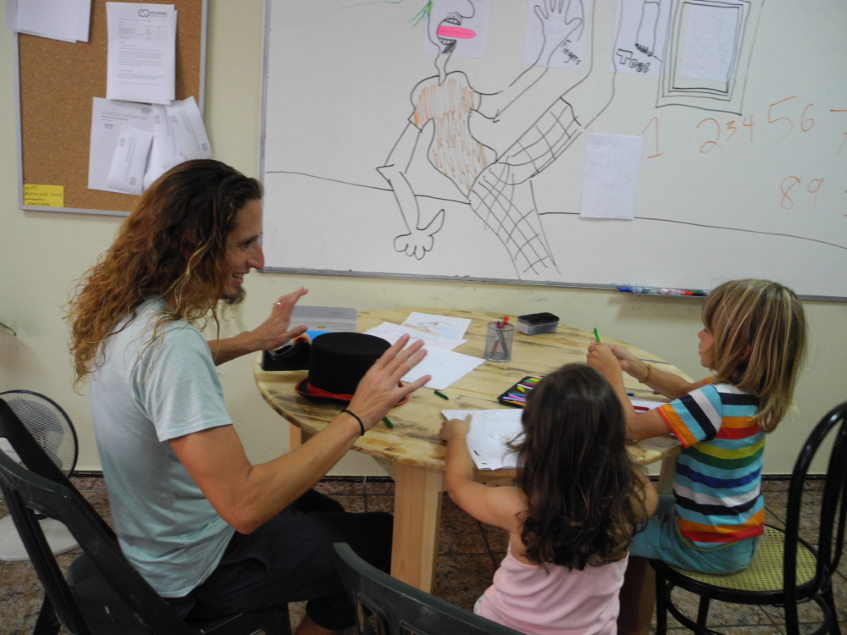 Para niños también ofrecemos clases de idiomas y clases de apoyo a partir de los 3 años. Los niños aprenden moviéndose, así que para los más pequeños nos basamos en la creatividad, diversión y motórica para transmitir las bases del alemán, inglés, francés o español. Las clases de apoyo para niños son para cualquier materia de primaria o de la ESO, así como para algunas materias de BAC. Los materiales son adaptados según metodologías como la de Montessori y se basan en canciones, juegos, manualidades y artes plásticas.
En general nuestro método de enseñanza da buenos resultados. A lo largo de nuestra experiencia podemos resaltar el buen resultado que nuestras clases han dado con alumnos con altas capacidades, con síndrome de Asperger, con dificultades para concentrarse, con dislexia y con alumnos desmotivados por el sistema de estudio de centros anteriores.
Nuestra oferta presencial también se puede reservar online, tanto para clases en grupo, en pareja o en forma de clases privadas.
Lo que nos diferencia de un tutorial o de otras opciones que se pueden encontrar en internet, es que a pesar de la distancia física nuestros profesores tratan de crear una situación de comunicación lo más real posible. A través de ejercicios dinámicos, el alumno no es un mero espectador que recibe información o tareas, sino que está constantemente activado e involucrado en la clase.
Los resultados de nuestras clases online fueron óptimos durante el confinamiento de la crisis del 2020. Desde entonces nuestros profesores están en constante búsqueda de materiales digitales actualizados y siguen formándose para poder crear clases virtuales dinámicas.
Fuerteventura ha sido denominada "la isla del viento" y quien vive aquí sabe que hay mucha gente que está de paso por aquí. Lo mismo nos pasa con los profesores, así que nos hemos vuelto muy flexibles para sacarle rendimiento a este fenómeno. Junto a nuestra oferta fija de idiomas, también ofrecemos pilates, yoga, polaco, árabe, euskera, informática, cursos de pintura y todo lo que nuestros profesores temporales sepan ofrecer. Infórmate de todo lo que se puede aprender en cada momento en nuestro centro. ¡Nuestros contenidos varían y se adaptan!
Uno de nuestros lemas se puso a prueba y nos funcionó durante la crisis mundial del 2020: ¡Al mal tiempo, buena cara! Fue todo un reto adaptarnos a tantos cambios.
Si quieres saber todo lo que se puede aprender ahora mismo en nuestro centro, contacta al +34610013424. Estaremos encantadas de informarte.
Contáctanos, te informaremos en español, en inglés o en otros idiomas.
Lo que opinan nuestros alumnos sobre nosotros
Eine sehr gute Erfahrung Ich habe ohne Vorkenntnisse die Sprachschule von Alina Kunz für 2 Wochen besucht. Ich wurde von unserer Lehrerin Elisa und von Alina Kunz gut abgeholt. Mit dem Ergebnis, dass ich nächstes Jahr weiter mache. Das spricht für sich und benötigt keine weiteren Erklärungen. Gracias
Marlies G
November 18, 2022.
Tolle Sprachschule in Corralejo Ich kann die Sprachschule nur empfehlen. Meine zwei Wochen Bildungsurlaub Spanisch waren abwechslungsreich, lehrreich, interessant und kurzweilig. Elisa und Alina sind tolle Lehrerinnen.
bufflog
November 16, 2022.
Top individuelle Lernerfahrung auf hohem Niveau Ich habe hier zwei Einzelstunden in Spanisch genommen als Vorbereitung auf meine eigene Lehrtätigkeit. Die zwei sehr netten Sprachlehrerinnen sind genau auf meine Wünsche eingegangen: Konversation über und Reflexion der eigenen Lehrerinnen Rolle, didaktische Hinweise, Wiederholung anspruchsvoller Grammatikthemen (mit Blick auf Kommunikation im Unterricht). So hatte ich die Möglichkeit meine bereits guten Sprachkenntnisse im Bereich ELE zu erweitern. Vielen Dank euch!
Súper escuela Scuola professionale e allo stesso tempo divertente.Insegnanti di alto livello e con grande esperienza.Continuerò i miei studi con loro.
Gran escuela, profe encantadora Alina es una profe encantadora! Su paciencia, su educación, su amabilidad y su dedicación al trabajo son las cosas que me enamoraron de esta Academia de idiomas! La Academia es un ambiente acogedor, parece estar entre amigos ya a partir del primer día, todos son muy educados y tienen buen rollo! El seguimiento del aprendizaje es de alta calidad, la profesora nos sigue paso a paso, y cada vez que tengamos dudas nos ayuda volviendo a explicarnos (el alemán es bastante duro!).No existen tareas estresantes, exámenes cada mes o cosas así que puedan perjudicar la seguridad o la confianza propia del alumno, para que siga aprendiendo a su ritmo hasta conseguir su objetivo.En definitiva, la mejor academia de Fuerteventura, extremamente recomendable!
Vanessa R
August 19, 2022.
La frequento da 2 mesi e continuerò per tutta la mia permanenza Molto professionali, argomenti interessanti con possibilità di diversi livelli di apprendimento, consigliatissimo 👍
Roberto F
February 5, 2022.
Just amazing! Best Spanish course I could. We had an amazing week of Spanish lessons with Elisa. What a teacher. We had so much fun with her and learned much more than expected. Highly recommended! I will be back next year!
Philipp
December 22, 2021.
Excelente enseñanza Aprendí Alemán en la academia con una excelente profesora, ahora ya estoy en Alemania y he podido poner en práctica todo lo que un día me enseñaron. Recomiendo totalmente este centro.
Brenda O
September 28, 2021.
Learning Spanish Recomiendo encarecidamente esta escuela, estan muy bien organizados y bien capacitados. Tambien ofrecen diferentes horarios para adaptarse a sus necesidades
Eduardo M
September 27, 2021.
Totalmente recomendable Soy española y recibo clases on-line desde Alemania. Elena siempre tiene el material apropiado para que el aprendizaje sea lo más fácil y rápido. Muy útil viviendo aquí, su profesionalidad y sus consejos. Elena es una excelente profesora de Alemán.
Belén
September 27, 2021.