We love teaching! We believe that a good language class should go far beyond teaching grammar, following a manual and filling out worksheets. We avoid the classic method of frontal communication and offer instead interactive dynamics and current topics. We teach grammar as a necessary tool for communication and stimulate the students' interest in the new topics – rather than just giving it to them.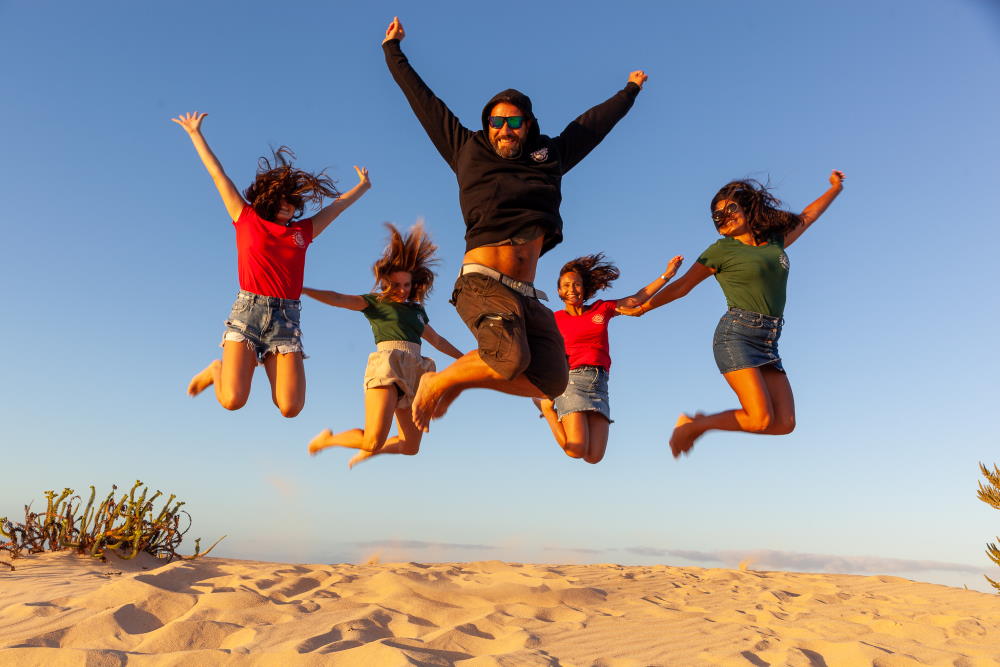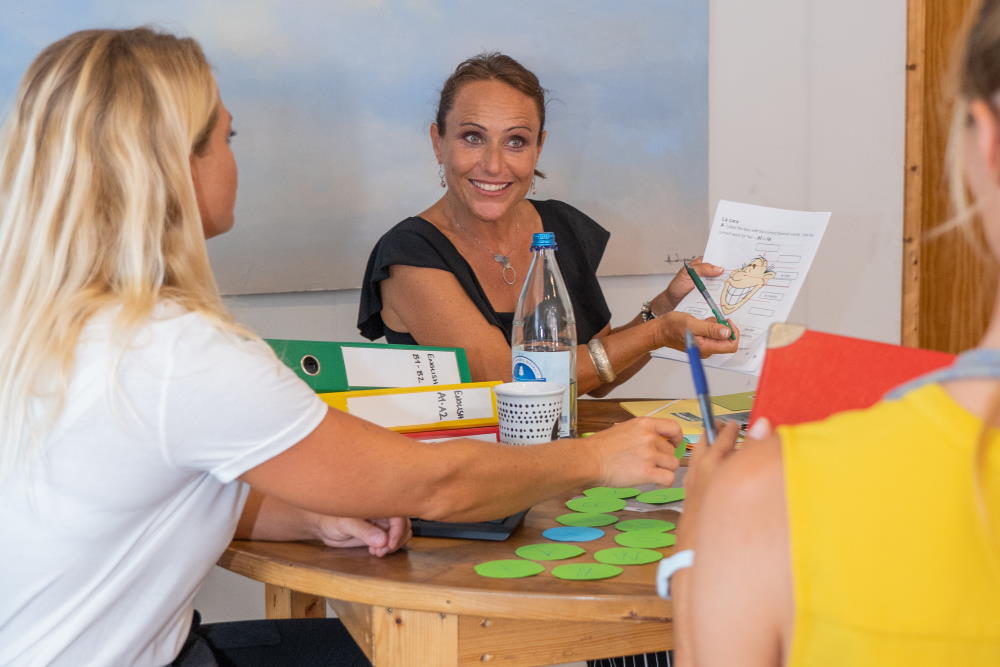 Our teaching team builds bridges between people from different cultures and countries. We also open new doors for students and their professional careers. We help foreigners to become better integrated by speaking Spanish. It is also heart warming for us that some of our students pass their exams thanks to our support. And, of course, we are also inspired by the kids, as we see how passionate they are about learning a new language.
We welcome you with a glass of water, in a cosy and stimulating atmosphere displaying  artistic paintings. We are committed to sustainability which you can tell by our recycled furniture and materials. The conservation of the oceans is one of our priorities, as we also represent the headquarters of Limpiaventura – an environmental association.
Classroom space and content
All our classrooms are equipped with a screen, computer, internet connection, blackboard and quality audiovisual equipment. Some of our furniture is made from reused or second-hand materials and we avoid using plastic bottles.
Our teachers are trained and speak several languages. In class they focus on oral conversation. Our materials are authentic, as we do not follow a manual. We work with materials from internet sources, manuals, authentic materials or our own invention developed on a weekly basis.
What sets us apart from other academies is that our teaching unit lasts 60 minutes instead of 45 minutes. We take our time to attend you in the most personal and human way possible. We have a whatsapp group for each group, where we send photos and materials in case you miss a class. In these groups interesting work groups or initiatives come together to exchange ideas and share free time.
We are located in the centre of Corralejo, in a quiet street in the village of Corralejo, which is in the northern part of Fuerteventura. Just a few minutes from the pier and several cafés, it is an ideal place to have your classes. Enjoy a breakfast in the sun or some tapas with wine in the pedestrian street before or after your classes. Our island is a paradise of crystal clear water and vivid colours.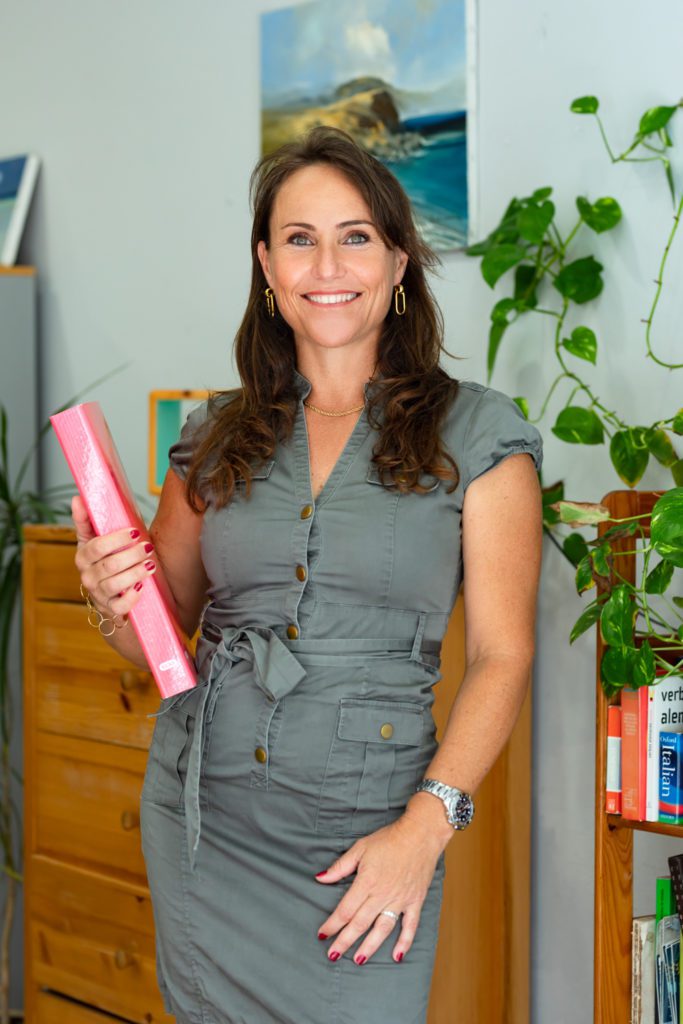 Alina was born in Vienna, her father was from Argentina and her mother was of Swiss nationality, but lived in Austria. As a child, she travelled around Europe and Latin America with her parents until they settled in Fuerteventura in the late seventies. So, Alina grew up between two very different worlds: Fuerteventura – an island which at that time was sparsely inhabited and represented a rustic and deserted paradise, and cities like Vienna, Zurich and Basel. In Vienna, she graduated in Spanish and Italian Philology, as well as in Pedagogy and did a Master's degree in "German for Foreigners". She studied teaching Spanish, Italian and German as a foreign language at university. She acquired her practical knowledge at various community colleges in Austria and Germany, at language schools in Switzerland and at the Goethe Institute in Madrid.
Already as a child, Alina spoke several languages and was aware of the problem of not knowing foreign languages on an island that lived off tourism. It hurt her to see friends and classmates leave school early to work in the tomato fields or clean hotels with no other way out. She was also aware of the injustice that existed in the jobs, as foreigners had more possibilities of accessing them than Canarians, simply because they knew languages. On the other hand, she also witnessed various difficulties of adaptation on the part of foreigners on the island, because they did not speak Spanish. At the age of 17, she left the island, making a promise to herself that if she ever returned, she would do something to solve this problem of misunderstanding between two cultures.
The Kunz Academy is more than just a language school, it is an education centre that is also a place for creativity, communication and project development. Alongside her work as founder and teacher, Alina has created a project with which she has been visiting public schools and summer camps since 2017 to raise awareness among kids and young people about respect for nature. The project is directly linked to her environmental association Limpiaventura and consists of 5 instructors. It is a didactic and experimental project for kids that includes painting and cleaning beaches.
Painting courses have been given at the Academy by painter and artist Elena Lanz. We have offered free seminars and chats on topics such as dolphins in the sea, the importance of sharks in the sea, the question of whether there is life on Mars and female genital mutilation. These chats were given by marine biologists, engineers and active members of associations of the islands. Since 2015 we have also made our classrooms available for yoga, pilates, dance classes as well as for exclusive beauty and massage treatments. With the company Beautyventura, for example, you can enjoy a beauty treatment in a cosy and warm room.
Apart from these activities, the Academy has collaborated with humanitarian initiatives. We did a massive collection of clothes and shoes during the arrival of small refugee boats to the Canary Islands in 2019 and 2010. We collected and distributed food during the lockdown due to Covid19 in 2020. All this has been possible thanks to the commitment of volunteers and the collaboration with the Red Cross, Modern Christian Mission and other humanitarian associations. We have also been collaborating with dog saving organisations, taking in puppies on a seasonal basis and finding owners for them.
The small school has become a second home for Alina, where she tries to teach values for a more humane, healthy and sustainable lifestyle. Her life revolves around her son and outside the academy life she enjoys walking her dogs and dedicates herself to the environmental association she founded in 2015, which cleans beaches and organises events. She also does contact sports, enjoys dancing and is involved in women's protection and empowerment projects. Alina believes that a healthy future must be ecological and protects women with the support of men and women.
Spanish teacher Although Óscar was born in Murcia, for the last 20 years he has made the world his home, working in America, Europe and the Middle East. To complete this global picture, he travelled from the deserts of Chile to the Everest base camp, passing through the glaciers of Greenland, the silence of Antarctica or the blossoming of cherry trees in Japan. As a result of this irrepressible desire to live extraordinary experiences, he achieved the C2 level of English and the B2 level of German, along with a degree in Geology in the city of the Beatles. After more than a decade as a geologist in environmental projects around the world that allowed him to visit unforgettable places, he felt that he needed to turn his professional life around. After the first doubts in the face of such a drastic challenge, he quickly realized that his interest revolved around teaching Spanish to foreigners, supported by his experience as a German student in Germany and as a university student in England. He has an ELE master's degree in teacher training of Spanish as a foreign language and is currently an ELE teacher with more than 850 hours teaching Spanish in class, using cognitive grammar: a more practical way of teaching this grammar. Óscar has taught levels A1, A2, B1 and B2 at the Polytechnic University of Cartagena, in addition to preparing students for the exams of these levels, with a very high passing rate. Among his students are Ukrainian refugees and Erasmus students. Along with his passion for languages, he also enjoys diving among sharks and coral gardens in the Red Sea and Maldives or inside shipwrecks 40 meters deep. Already on the surface, he doesn't dislike running either, completing a marathon in Santiago de Chile. Another Santiago, but from Compostela, saw him arriving from Irún, 850 km away, walking through postcard sites, completing the Camino de Santiago alone in 35 days.
To be part of our team, it is not only the curriculum that counts. We also take into consideration the human qualities and the personality of the teacher. Apart from the permanent teachers in our team, we also have other teachers who are with us on a seasonal basis.
The same goes for our offer, which changes according to demand. So it is possible that in addition to our regular offer of Spanish, German, English, French and school support, we may also offer a computer course, Italian, yoga, pilates, painting, dance or another course. Therefore, the best thing to do is to inform yourself directly about the current range of courses and teachers by Whatsapp on +34610013424.
Apart from the course programme, we also have a classroom which can be used for lectures and a smaller, cosy classroom where you can book beauty and health treatments.
We are as flexible as possible and have adapted to the circumstances. Our motto is: when everything goes wrong, keep smiling. We are very proud that we have been able to survive the 2020 global crisis as a company.
Follow our social networks and Whatsapp us on 61013424 if you want up to date information.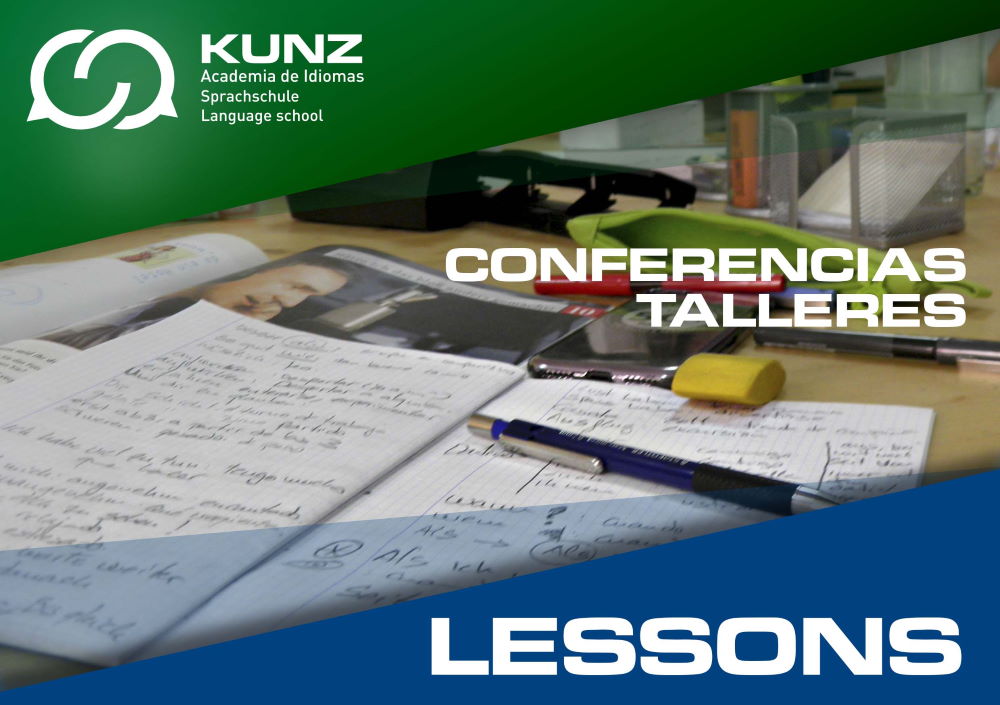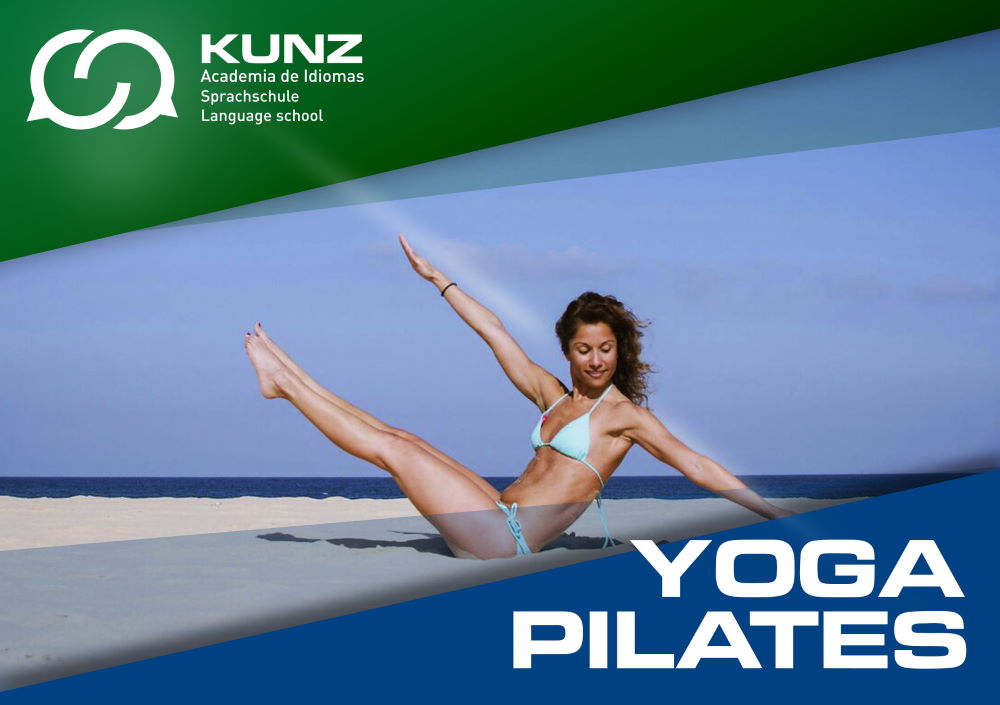 Contact us, we will give you info in English, Spanish or other languages.
What our students say about us
Eine sehr gute Erfahrung Ich habe ohne Vorkenntnisse die Sprachschule von Alina Kunz für 2 Wochen besucht. Ich wurde von unserer Lehrerin Elisa und von Alina Kunz gut abgeholt. Mit dem Ergebnis, dass ich nächstes Jahr weiter mache. Das spricht für sich und benötigt keine weiteren Erklärungen. Gracias
Marlies G
November 18, 2022.
Tolle Sprachschule in Corralejo Ich kann die Sprachschule nur empfehlen. Meine zwei Wochen Bildungsurlaub Spanisch waren abwechslungsreich, lehrreich, interessant und kurzweilig. Elisa und Alina sind tolle Lehrerinnen.
bufflog
November 16, 2022.
Top individuelle Lernerfahrung auf hohem Niveau Ich habe hier zwei Einzelstunden in Spanisch genommen als Vorbereitung auf meine eigene Lehrtätigkeit. Die zwei sehr netten Sprachlehrerinnen sind genau auf meine Wünsche eingegangen: Konversation über und Reflexion der eigenen Lehrerinnen Rolle, didaktische Hinweise, Wiederholung anspruchsvoller Grammatikthemen (mit Blick auf Kommunikation im Unterricht). So hatte ich die Möglichkeit meine bereits guten Sprachkenntnisse im Bereich ELE zu erweitern. Vielen Dank euch!
Súper escuela Scuola professionale e allo stesso tempo divertente.Insegnanti di alto livello e con grande esperienza.Continuerò i miei studi con loro.
Gran escuela, profe encantadora Alina es una profe encantadora! Su paciencia, su educación, su amabilidad y su dedicación al trabajo son las cosas que me enamoraron de esta Academia de idiomas! La Academia es un ambiente acogedor, parece estar entre amigos ya a partir del primer día, todos son muy educados y tienen buen rollo! El seguimiento del aprendizaje es de alta calidad, la profesora nos sigue paso a paso, y cada vez que tengamos dudas nos ayuda volviendo a explicarnos (el alemán es bastante duro!).No existen tareas estresantes, exámenes cada mes o cosas así que puedan perjudicar la seguridad o la confianza propia del alumno, para que siga aprendiendo a su ritmo hasta conseguir su objetivo.En definitiva, la mejor academia de Fuerteventura, extremamente recomendable!
Vanessa R
August 19, 2022.
La frequento da 2 mesi e continuerò per tutta la mia permanenza Molto professionali, argomenti interessanti con possibilità di diversi livelli di apprendimento, consigliatissimo 👍
Roberto F
February 5, 2022.
Just amazing! Best Spanish course I could. We had an amazing week of Spanish lessons with Elisa. What a teacher. We had so much fun with her and learned much more than expected. Highly recommended! I will be back next year!
Philipp
December 22, 2021.
Excelente enseñanza Aprendí Alemán en la academia con una excelente profesora, ahora ya estoy en Alemania y he podido poner en práctica todo lo que un día me enseñaron. Recomiendo totalmente este centro.
Brenda O
September 28, 2021.
Learning Spanish Recomiendo encarecidamente esta escuela, estan muy bien organizados y bien capacitados. Tambien ofrecen diferentes horarios para adaptarse a sus necesidades
Eduardo M
September 27, 2021.
Totalmente recomendable Soy española y recibo clases on-line desde Alemania. Elena siempre tiene el material apropiado para que el aprendizaje sea lo más fácil y rápido. Muy útil viviendo aquí, su profesionalidad y sus consejos. Elena es una excelente profesora de Alemán.
Belén
September 27, 2021.